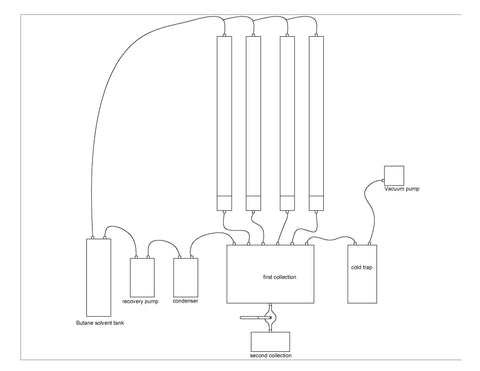 Closed Loop Essential Oil Extractor - 8 lb.
8 pound Active Closed Loop Extraction System.
The 8lb Active Closed Loop Extractor is an active recovery system designed to be used in conjunction with a recovery pump to allow for quicker runs. Utilizing a manifold system that allows you to flood from first the bottom, then the top, this system is integrated with Bi-Directional flow. This system also has a secondary collection. First, you wash your material with solvent. Then after dumping into the first collection, recover your butane. Finally, dump the recovered oil into the second collection and then start the process over. This allows you to continue your process while you refine your oil in a vacuum oven.
Every 8lb Active Closed Loop Extractor comes with:
(4) 3" x 36" Columns
(1) 12" x 18" Collection
(1) 10" x 12" Collection
(1) Manifold
(1) Cold Trap
(1) Condenser
Stainless Steel Braided, PTFE Lined Hoses
(6) Compound Gauges
Rack Mounted
Every closed loop extractor is built out of SS304 to be food grade and to meet sanitary standards.
Disclaimer:
Depending on the type of oil you are extracting, these product(s) may not be legal to operate in some areas. For safety reasons, these product(s) are designed and intended for outdoor use only. Emerald Gold, LLC strongly discourages any unlawful use of these product(s), and is not responsible for any damage or injury caused by the misuse or unlawful use of these product(s). Any person or entity that uses the equipment and/or information provided by Emerald Gold, LLC does so entirely at their own risk, and accepts all liability concerning the use of the product(s) and information listed above.