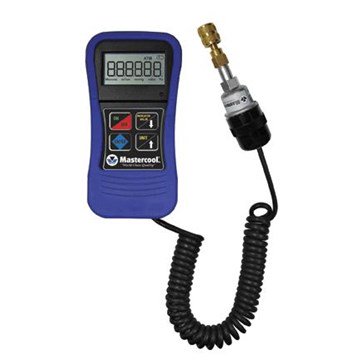 Mastercool Digital Vacuum Gauge in a Blow Molded Case for Butane, Propane, and BHO Extraction, etc.
Mastercool 98061.
This vacuum gauge has been designed with the technician's field environment in mind, allowing for self-calibration and a sensor that will not be damaged by small mists of oil. The Mastercool unit allows for a target vacuum range to be programmed with a light sensor indicator. Now you have the freedom to continue with your other work and come back to the system once you see the indicator light signaling your target vacuum.
The sensor has a 1/8" MNPT thread and comes with an adaptor to 1/4" female flare (45 degree taper).  A different adapter will be needed to connect to JIC fittings with a 37 degree taper.