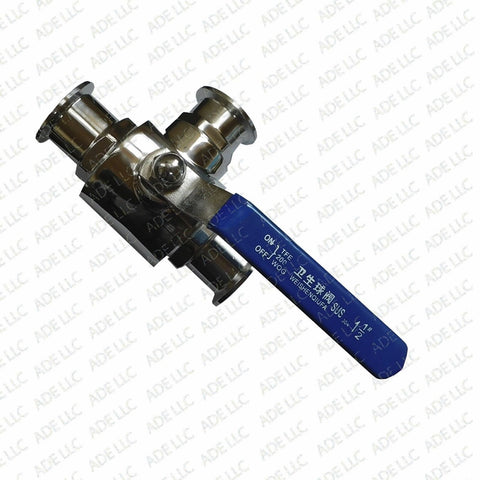 1.5" Bore 3-Piece Ball Valve with 1.5" Tri Clamp Fittings, Stainless Steel 316
1.5" Bore 3-Piece Ball Valve with 1.5" Tri Clamp Sanitary Fittings, Stainless Steel 316
Ball valves are one way in line valves (for maximum flow), that are opened and closed by pressure on a ball that fits into a cup shaped opening. 
Ball valves are incredibly durable and reliable, performing well after many cycles and being able to close securely even after long periods of not being used. This makes them ideal for any shut off application. The handle on these ball valves are lockable, preventing any accidental shut off or opening of the valve.
These ball valves have tri clamp/tri clover fittings on each end, and can be easily fitted to any tri clamp/tri clover fitting with a gasket and clamp (sold separately). Tri clamp/tri clover fittings are quick and easy to install, making setup and cleanup a breeze.
Because these ball valves are enclosed, they are considered heavy duty, and are rated for a maximum of 1,000 PSI.
These ball valves are manufactured out of 316 food grade stainless steel, and meet all of today's sanitary standards for sanitary fittings.
DETERMINING TRI CLAMP SIZE
Tri Clamp sizes are determined by the outer diameter of the pipe or tubing, not the outer diameter of the flange or Tri Clamp itself. The flange of a Tri Clamp fitting typically has about a ½" inch greater diameter than the outside diameter of the pipe. This can become especially confusing when the Tri Clamp fitting has no pipe attached to it, as is the case with adapters, For instance, a 1.5" Tri Clamp to 1/2" hose barb adapter is not 1.5" inches in any dimension, but the Tri Clamp end will fit any other 1.5" Tri Clamp fitting. 

If you have any doubts about what size Tri Clamp fittings your project needs, simply measure the outside diameter of the flange (dimension "B" below) and consult the chart below, or feel free to contact us .
 

Pipe Outer Diameter
A

Flange Outer Diameter
B

Pipe Inner Diameter
C

1"

1.98"

.87"

1.5"

1.98"

1.37"

2"

2.52"

1.87"

2.5"

3.05"

2.37"

3"

3.58"

2.87"

4"

4.68"

3.83"

6"

6.57"

5.78"

8"

8.57"

7.78"

10"

10.57"

9.69"

12"

12.57"

11.81"