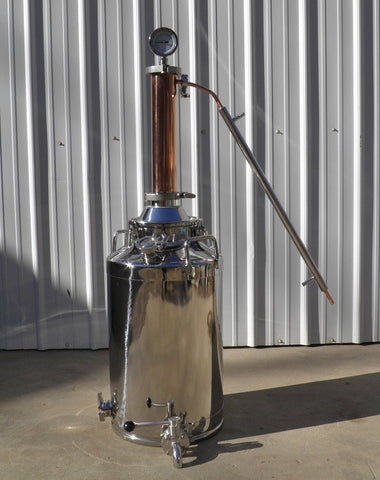 13 Gallon Moonshine Still with 3" Copper & Stainless Whiskey Column
This 13 gallon Moonshine Still comes with 3" copper and stainless column with built in leibig condenser, tri clamp pot for electric heating element adapter and tri clamp and cover plate. You can also fire it with a propane burner. The bottom of the boiler is flat and recessed, stands at 28" tall and has a base diameter of 13 3/4".
Comes with:
1" drain valve
carrying handles
1.5" filler neck with tri clamp cap
3" column connection
heavy duty 3" copper column with stainless liebig condenser
top quality construction with beautifully rounded curves
built from heavy gauge 304 food grade stainless steel
polished to a mirror finish inside and out
thermos port and commercial grade thermometer with a 3" face
This item comes with a 1 year warranty which covers manufacturer defects and leaks!
Disclaimer:
These products may not be legal to operate in some areas. Emerald Gold, LLC strongly discourages any unlawful use of these products and is not responsible for any damage or injury caused by the misuse or unlawful use of these products. Any person or entity that uses information or equipment provided by Emerald Gold, LLC does so entirely at their own risk and accepts all liability concerning the use of the aforementioned equipment and information.
 This still also comes with the book "Moonshine" by Matthew B. Rowley. Chapters include: Equipment; Ingredients; The Process; Fundamentals of Distilling; Operating a Pot Still; Whiskeys: Grain-Based Recipes; Now That You've Made It: Moonshine Based Recipes."