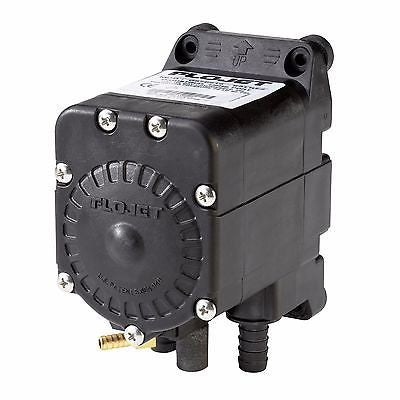 5 GPM Explosion Proof Beverage Alcohol Pump for High Proof Spirits. Flojet G70C
G70C ATEX Kalrez® Air Operated Diaphragm Pump
These little Explosion Proof Alcohol Pumps are the best for high proof beverage alcohol. All of the wetted parts are completely ethanol resistant. Please see the information below from the manufacturers web site.
The Model G70C is designed to be the ultimate in performance and reliability. Our robust design combines innovative features and relentless testing to offer a pump that has a long, trouble free service life. The pump incorporates all the great features and benefits you expect with Flojet products and now it's fitted with Kalrez®. The uniquely designed shuttle valve check valves, and its high performance capabilities have been combined to accomplish the ultimate in compact air operated double diaphragm pump technology. The Model G57C Pump can supply up to 5 GPM (18.9 /min.). A Air Regulator is used to control the flow rate (sold separately).
Model No.: G70C Series
ATEX approved
Exclusively from Flojet
Chemical resistant Kalrez® Diaphragms
Capable of Air or CO2 drive pressures up to 100PSI (2.2cfm)
Robust Design with durable integral mounting
Patented Shuttle Valve eliminates stalling
Capable of passing solids up to 3.2mm diameter easily with large clog-free Check Valves
Corrosion Resistant materials capable of handling a wide range of chemicals
Ease of Installation with all quick disconnect ports
Flow Rate 5 (gpm)
18.9 (lpm)
Air Supply Pressure 20 - 100 (psi)
1.4 - 6.9 (bar)
Temperature Range 120 (°F)
48.9 (°C)
Self Priming Up to 15ft (4.5m).
Port(s) Air Inlet & Outlet 1.4"(6.3mm);liquid Inlet & Outlet 3/8"(10-13mm) or or 1/2"(12.7mm) ;
Weight 0.54 (kg)
1.2 (lb)