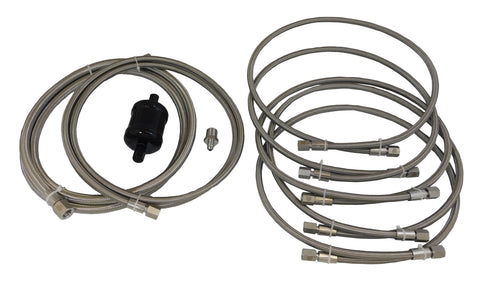 Hose and Filter Kit for 6" and 8 " Diameter MK III Style Extractors
This kit provides the filter and all of the additional hoses required for operating our 6" and 8" diameter MK III style extractors.  If you already have some of these hoses or would like a spare filter we sell each item individually as well.
The 1/4" MJIC to 3/8" MJIC coupling is for connecting the two hoses from the recovery tank to each other.  This keeps dirt and insects out of the hoses when the extractor is not in use. 
All hoses have stainless steel braid and PTFE (Teflon) liners.
Butane Filling Hose: 3/8" FJIC to 3/8" FJIC 6' Long
Extractor to Filter Hose: 

1/4" FJIC to 1/4" FJIC, 3' Long

Filter to Recovery Pump Intake Hose: 

1/4" FJIC to 1/4" FJIC, 3' Long

Vacuum Pump to Vacuum Manifold Hose: 1/4" FJIC to 1/4" FJIC, 6' Long
Extractor to Vacuum Manifold Hose: 

1/4" FJIC to 1/4" FJIC, 3' Long

Recovery Pump Outlet to Vacuum Manifold Hose: 1/4" FJIC to 1/4" FJIC, 3' Long

Vacuum Manifold to Recovery Tank Hose: 1/4" FJIC to 1/4" FJIC, 3' Long

1/4" MJIC to 3/8" MJIC coupling

Filter Dryer