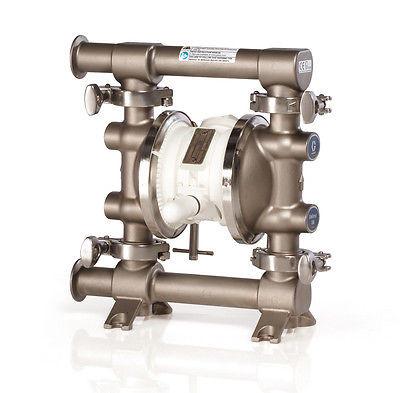 SaniForce Sanitary Double Diaphragm 15 GPM Pnumatic Exp Proof Alcohol, Mash Pump
SaniForce 515 Double Diaphragm Explosion Proof Pump. 
Graco's SaniForce 515 air-operated double diaphragm sanitary pump provides a solution to customers needing a pump with lower flow rates, a quick knock-down design for easy cleaning and a low cost of ownership – ideal for the food processing and personal care markets.  Popular applications include transferring flavorings, purees, sauces and other low to medium viscosity materials.  It also works great for pumping hot grain mashes, beer, wine and high proof spirits.
1 in (25.4 mm) Tri-clamp connections
316 Stainless Steel, EPDM, PTFE
All fluid contact materials are FDA-Compliant and meet the United States Code of Federal Regulations (CFR) Title 21
Fluid pressure to 100 psi (7 bar, 0.7 MPa)
Flow rates of 15 gpm (56.7 lpm)
Applications include high volume evacuation of liquid concentrates from holding vessels or repackaging of fluids from original container to smaller receptacles - up to 10,000 cps
Suitable to pump products like: flavorings, purees, sauces and other low to medium viscosity materials 
Great for pumping hot grain in Corn and Rye mashes at Distilleries 
Great for pumping alcohol up to 195 proof
Maximum Viscosity is 10,000 cps
Air consumption at 70 psi/13 gpm at 18 scfm
Maximum air consumption @ 120 Psi/16 gpm at 28 scfm
Max Fluid Temp 220° F
Max lift 25'