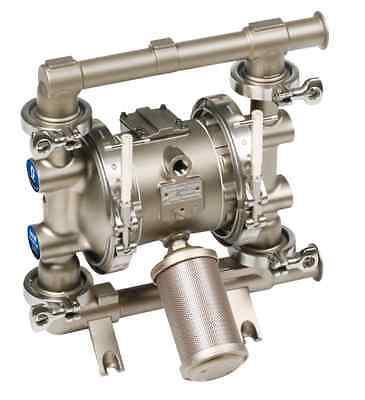 SaniForce Sanitary Double Diaphragm 40 GPM Pnumatic Exp Proof Alcohol, Mash Pump
SaniForce 1040 Double Diaphragm Explosion Proof Pump. 
Graco's SaniForce 1040 air-operated double diaphragm sanitary pumps have one of the best, most durable, lube-free air valves in the industry. Ideal for applications requiring high flow rates and portability. These Pumps are great for distilleries and breweries. These pumps will handle thick corn mash no problem.  They are also great for high proof spirits. The pump is explosion proof but the air compressor that powers the pump isn't, so the compressor needs to be in another room.  These pumps will move heavy grain mashes no problem.  You can empty out a 500 gallon fermenter in as little as 12.5 minutes. Air valve adjustment gives you control over pumping speed 5 gpm to 40 gpm. 
SaniForce 1040 Diaphragm Pumps


Maximum fluid working pressure

8 bar, 0.8 MPa

Air pressure operating range

1.4–8 bar, 0.14–0.8 MPa

Maximum air consumption

3

Air consumption at 70 psi, 20 gpm

3

Maximum free-flow delivery

159 lpm

Maximum pump speed

256 cpm

Gallons/liters per cycle*

0.57 l

Maximum suction lift

8.8 m wet, 4.9 m dry

Maximum size pumpable solids

3.2 mm

 

Maximum fluid operating temperature for this model is            220°F

 

104°C

 

 

Inlet/Outlet Sizes

Air inlet size

0.5 in npt(f)

Fluid inlet size

1.5 in sanitary flange

Fluid outlet size

1.5 in sanitary flange


Wetted Parts***

All fluid contact materials are FDA-compliant and meet the United States Code of Federal Regulations (CFR) Title 21, Section 177.

Wetted materials on all models

stainless steel

Wetted materials depending on this model

EPDM, Polychloroprene, PTFE, Santoprene