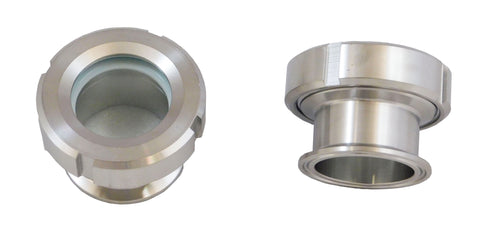 Sight Glass, 2" Tri-Clamp
This clamp-on sight glass allows you to observe the progress of your extraction or distillation.  Being able to observe the boil rate and liquid level allows you to fine tune your process and quickly respond to potential safety issues.  This is especially helpful if your process is affected by the ambient temperature or the temperature and composition of the liquid.
Generally two of these are required.  One for viewing and one for a flashlight.
Each sight glass has gaskets above and below the 3/8" thick glass.
Viewing diameter: 1.8"
Overall diameter: 3.2"
Overall height: 2.1" before tightening.
We recommend the small sight glass wrench for tightening the retaining ring.