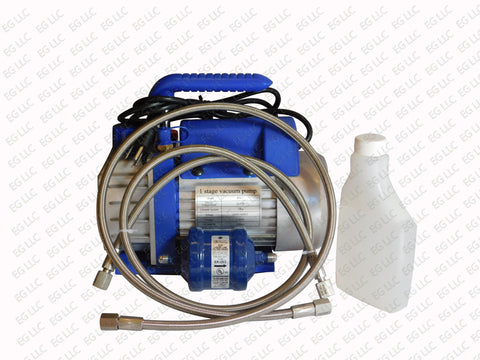 Vacuum Pump Kit
Our Vacuum Pump Kit comes with a 3 CFM single stage vacuum pump, Filter/Dryer, two PTFE lined Hoses, and Pump Oil. 
Pump Specifications:
Single Stage 3 CFM Pump
Input Power: 110V 60Hz
Horse Power: 1/4
RPM: 1440RPM-1720RPM
Ultimate Vacuum: 5PA/0.05mBAR    
Oil capacity: 220ML
Dimensions: 260x110x240mm
Always use a Cold Trap to prevent solvents from being pulled into your pump. A Cold Trap condenses the vapor into a liquid before it has a chance to reach the pump and corrode the parts.
Change the Vacuum Pump Oil often to prevent excess wear to the pump.